Countertops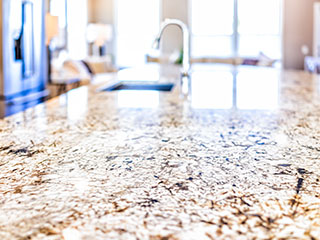 All kinds of countertop installation should be handled by a qualified professional. You must hire a well-experienced contractor if you want to get outstanding results. If possible, hire a company with extensive experience in designing custom-made counters. You will not only enjoy a hassle-free installation job but also top quality countertops that are perfectly made according to your specifications. You'll surely have an appealing kitchen or bathroom since experienced professionals will always consider the quality and aesthetic appeal of your chosen counter material. They will help you understand the maintenance requirements of each countertop material and the total cost of installing a new counter. Some materials require regular upkeep, so you have to exert extra effort to maintain the counter's beauty and function. But you can always ask the help of your contractor to avoid this scenario. In addition, professional contractors like us can create a design plan that will enhance the overall functionality of your entire bathroom or kitchen.

Now, if you are still looking for a local company that can expertly handle your project, please contact Bassett Building and Construction. We are the perfect people to hire for new countertop installation and remodeling projects. You can always bank on our decades of experience in kitchen remodeling and doing various home improvement jobs across the state. Our impressive portfolio of completed projects in South Lake Tahoe, Roseville, Rocklin, Arden Park, Carmichael, Fair Oaks, and Natomas, CA is a clear proof of our skills and competency in this particular area of home improvement. We are the choice of many local residents because of our ability to create well-crafted countertops. From design to installation, we have expert people who will handle each phase of the project. Don't worry if you're from the Nevada area since we also serve several cities in the state like Stateline, Zephyr Cove, and Kingsbury, NV. Call us now for your inquiries.


Our Recommended Countertop Materials
Durability and ease of maintenance are just some of the qualities that we consider when recommending a particular countertop material. We will also help those who are not familiar with the unique characteristics and maintenance requirements of their chosen material. There are different types of countertops but we only recommend quartz, granite, solid surface, and tiles. We may also use other materials that our clients may request.

Here are some of the most preferred countertop materials and the reasons why it is the choice of most homeowners in the state:


Quartz. This type of countertop material is now a popular choice among contractors and homeowners because of its excellent qualities. It is impervious to stains and scratch- and chip-resistant. Since it is made from crushed quartz stone and resin, it becomes a tough countertop material.


Granite. A lot of property owners still prefer granite for their kitchen and bathroom areas. You'll never regret using granite as a countertop material because of its durability and natural beauty. You can also choose from different color tones that will perfectly suit the theme of your kitchen or bathroom.


Tiles. If ease of maintenance is your top priority, go for ceramic tiles. This is a perfect material for your counter because of its smooth and scratch- and stain-resistant surface. They are also available in various colors, patterns, and sizes.
Custom Countertop Designs
Installing custom-designed countertops is our expertise here at Bassett Building and Construction. Our designs are uniquely crafted to help our clients achieve highly personalized kitchen and bathroom areas. The design plan will be based on our client's needs, design preferences, and budget allocation. If you will be hiring us to design a countertop, we will make sure that the new counter will provide the functionality you need as well as the much needed aesthetic boost in your kitchen or bathroom. While we always try unconventional designs, we still consider your design ideas and preferences. We want you to be completely satisfied with our work so we carefully create the design plan and even allow revisions to satisfy your needs. With the help of modern design tools, it is easy for us to modify or improve the current design specifications. Visit us today to see some samples of our custom-designed countertops for residential and commercial properties.

We can also repair and maintain your countertop at a minimal cost. Some of methods that we use to bring back the luster and function of your counter are sealing and resurfacing. Just contact us at Bassett Building and Construction if you want to learn more about these options. Call 916-992-1138 today.