Bathroom Remodeling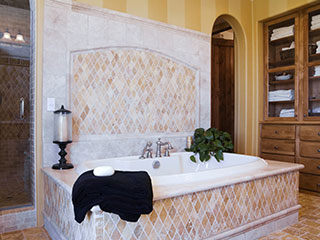 Do you need a bigger and more functional bathroom? Let Bassett Building and Construction handle the task for you. Our company has been doing bathroom remodeling for decades, so we have the expertise to achieve your desired bathroom setup or theme. Our team will not only transform your bathroom into a more functional area but also ensure that it will become a cozier and more relaxing place to be at. Please call us at (916) 992-1138 to learn more about our remodeling services. You may also visit us at our Elverta, CA office to personally discuss your plans.


Bathroom Remodeling Expert in CA
If you are looking for a bathroom remodeling expert in Northern California, Bassett Building and Construction is your perfect choice. Our company has been in the remodeling business since 1980, so we have already established our name as one of the best contractors in the industry. Our impressive portfolio of completed projects in Elverta, South Lake Tahoe, and surrounding areas is a clear proof of our competency and ability to turn clients' ideas into beautiful and functional bathrooms.

We are also proud of our dedicated and highly skilled crews. They are all professionals and experts in their respective fields of specialization. As seasoned bathroom remodelers, they can work on any design or bathroom setup that you may desire. They can effectively maximize the available space in smaller bathrooms by rearranging some fixtures and amenities or installing new cabinets in strategic locations. They can also transform your existing bathroom into a master bath complete with your dream amenities such as bathtub and spa, vanity mirrors, modern showers. Just tell us your desired setup, and our people will work on it based on your set budget.


Excellent Features for Your Bathroom
At Bassett Building and Construction, we always put emphasis on the bathroom's functionality and appeal when working on a bathroom remodeling project. We don't just recommend the removal of existing bathroom features and install new ones. Our approach is to achieve your desired setup at a cost that will not put a hole in your pockets. Before we proceed with the remodeling project, we will sit down with you to discuss your needs, design preferences, and future plans for the area. This will help us create a sensible remodeling plan for your bathroom.

Our bathroom remodeling plan may include working or installing any of these:


refinishing or installing new cabinetry
installing vanity mirrors
retiling of bathroom floors and walls
adding modern LED lighting system
adding window treatments
repainting of walls and ceilings
installing bathtubs and spas
replacing your old showers with premium brands
installing designer sinks and faucets
Worry-free Bathroom Remodeling Project
Another reason why most homeowners in California choose us is our excellent customer service. Once you hire us for a bathroom remodeling job, you are assured that it will be handled by professionals and expert builders. Our people are equipped with the right tools and equipment and certified by some manufacturers to install their bathroom products. These resources plus our well-trained people will guarantee the reliability of every fixture and accessory in your bathroom. We also follow the plan's specifications and requirements.

Please call us now and let us show you how we can make your bathroom as one of the best and most relaxing spots in your home.